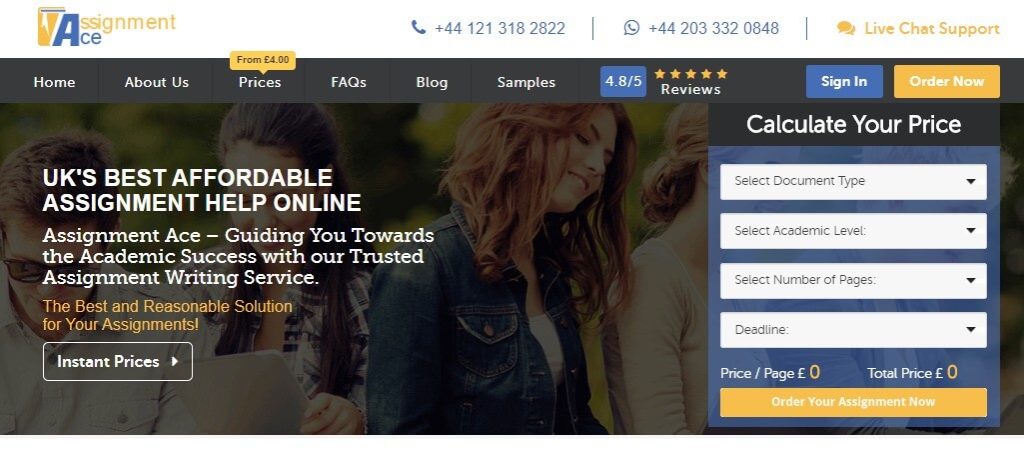 ★★☆☆☆
3.5 out of 10 points
General Overview
The purpose of AssignmentAce.co.uk is to offer affordable writing services to British students. With prices starting from £4, the affordability expectation is certainly met. There aren't many other professional writing services that offer content for this price.
But is this a professional writing service that we can compare to the best ones in the industry? That's hardly the case. The quotes at AssignmentAce may be low, but you're still paying an expensive price if you don't get the quality you expect. The low prices made us suspicious for a reason. Read this AssignmentAce review to get the details.
Prices and Discounts
Let's start this AssignmentAce review with the fun stuff: how affordable is this service? Oh; it's very affordable. There are three quality levels: 2:2 Standard, 2:1 Standard, and First class. The longest deadline is 20 days and above. The prices are £4, £5, and £6 per page, depending on the quality level.
If we look at the 10-day deadline, which is where other services usually start, the prices are still affordable: £8, £9, and £10 per page. If you want the paper within 24 hours, you'll pay £22, £23, or £24 per page.
That's very cheap and no; there's no discount on the price. A discount would be too much.  
Quality and Deadlines
AssignmentAce has a great list of services that includes almost every type of assignment you can think of. That's all fine. The problem is: this is not a place where you'll get 100% unique content. Most Assignment Ace reviews contain complaints about plagiarized content and paraphrasing even if you order writing from scratch. It seems like these writers find basic samples and articles and rewrite them. The rewriting is not even good since Copyscape catches the sources.
As for the deadlines, they represent another big issue with Assignment Ace. Who would assign a deadline of 20+ days for a simple essay in their right mind? It's too long. 20 days is acceptable for a dissertation chapter or another lengthy paper. But what about that "plus"? It means that the writer can take more time without informing you about the delay.
If you hire AssignmentAce.co.uk, don't expect to get the paper on time. It's best to assign a shorter deadline than the one you actually need. These writers are known for missing due dates.
Customer Reviews
There aren't many Assignment Ace reviews on services like SiteJabber and TrustPilot. Most reviewers were satisfied with the price. That's understandable. The problem is that none of them give us facts about quality. These are either fake reviews, or they are written by students who weren't asking for extreme quality.
On TrustPilot, there are really rude answers by the Assignment Ace team to customers who complained about the missed deadlines and lack of support. When someone says that they didn't get assistance by the support, there's an answer by the company saying: "That's not true, you're making false accusations, as we offer 24/7 support."
There's a problem with the communication system and the quality. That's an obvious conclusion from all the reviews we were able to find. But keep in mind that there aren't too many evaluations online. This isn't a popular service. It still hasn't deserved the trust of a larger audience, despite the attractive pricing.
Final Verdict
AssignmentAce might be cheap, but it's a waste of money.
From our personal experience with the team, we can say this: they don't deliver original content and they miss deadlines. Our writer was not British. The content came with improper grammar in it. We asked for editing because there was plagiarism. We didn't get it. Then we asked the writer to proofread the content since it was the least they could do. Nope! Nothing!
We don't recommend students to set the longest deadline. You never know when you'll get the assignment that way. But even if you set a precise deadline, be ready for a delay.
The customer support system doesn't work. The agents don't respond to messages. When they send a response (which is rare), they do it to deny your rights to free revisions and to convince you that the rubbish content was somehow your fault. If you read the reviews on TrustPilot, you'll notice that this company is always trying to make the customers feel guilty about failing results.